Simple Preparation
Unlike conventional software tools, AKLFlowDesigner does not require any complicated preparation for analysis.
It can easily import data from Rhinoceros or SketchUp and the airflow can be simulated intuitively.
AKLFlowDesigner is equipped with user-friendly data entry screen that allows intuitive and manualess data entry for desired airflow simulation.
Easy to visualize
AKLFlowDesigner visualizes the otherwise invisible flow of wind with just simple steps. It is a highly effective tool to aid your technology proposals to clients with visualized wind movements and temperature distribution in 3D, a difficult idea to articulate in the past.
Fast and Robust
In conventional software tools, even the simple models required over 30 minutes for 3D airflow simulations. However, AKLFlowDesigner requires only 5 minutes for importing data and providing results from the analysis!*1
Also, software tools in the past required establishing detailed parameters to converge analyzed data, but AKLFlowDesigner can do away with unnecessary setting process. Highly robust solver lets designers perform 3D simulations fast and easy.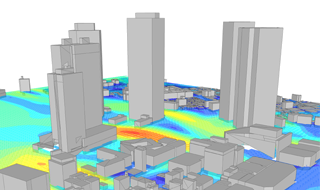 Capable of analyzing 1million mesh in just 5 minutes!
*1:Time required for analysis varies depending on the resolution of the mesh.